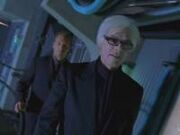 Emma deLauro comes in contact with a secret group named Mutant X, which is a team of New Mutants and led by Adam Kane, a scientist who created the New Mutants. Meanwhile a secret agency, The GSA, led by Adam's old friend and now enemy Mason Eckhart, is created to deal with these New Mutants.
Character Appearences
Edit
Main Cast
Emma deLauro- Lauren Lee Smith
Brennan Mulwray- Victor Webster
Guest Cast
Frank Thorne - Douglas O'Keeffe
Preceeded by- N/A
Followed By- I Scream the Body Electric (Part 2)
Community content is available under
CC-BY-SA
unless otherwise noted.