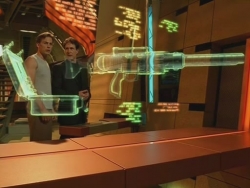 While saving a New Mutant from two Russian bounty hunters who work for The GSA, Brennan is hit by a blast of an unknown weapon, which can kill him in a short time. Meanwhile, a teenager wants to sell his father and stepsister (both New Mutants) to Eckhart. 
Character Appearences

Edit
Main Cast-
Emma deLauro- Lauren Lee Smith
Brennan Mulwray- Victor Webster
Guest-
Sonya - Dylan Bierk
Yuri - Alexander Pervakov
Daniel Benedict - Ross Hull 
Steven Benedict - Peter Van Wart
Preceeded by- I Scream the Body Electric(Part 2)
Followed by- Fool for Love
Community content is available under
CC-BY-SA
unless otherwise noted.