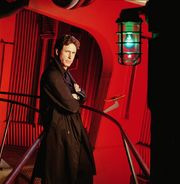 Adam Kane is a character in the science-fiction series
Mutant X
. The character was portrayed by John Shea in all three seasons of the show.
He is the strategist, tactician and moral center of Mutant X, even though he is not a New Mutant himself.

[edit] Fictional Character Biography It was his genetic research as a Genomex scientist which creates hundreds of New Mutants.
When Adam grew disquieted with Genomex's questionable ethics, he leaves Genomex and drops out of sight. He has taken the responsibility to save these innocent victims of Genomex. He helps to form The New Mutant Underground, and set up Mutant X, a team of powerful New Mutants who could fight, if necessary, to maintain New Mutant Freedoms. However, it took Adam twenty years for his morals to be activated. Even after leaving Genomex, he continues his experimentation on New Mutants as he admits in the third season.
It is revealed in the series finale that Adam is a clone of The Creator, founder of The Dominion.
The following points can be argued:
Is Adam Kane the smartest man alive in the Mutant X universe? Was Adam one of several scientists directing the program, or was he its head? Did he know how his work was applied?